Thank You from a Pastels on 5th Artist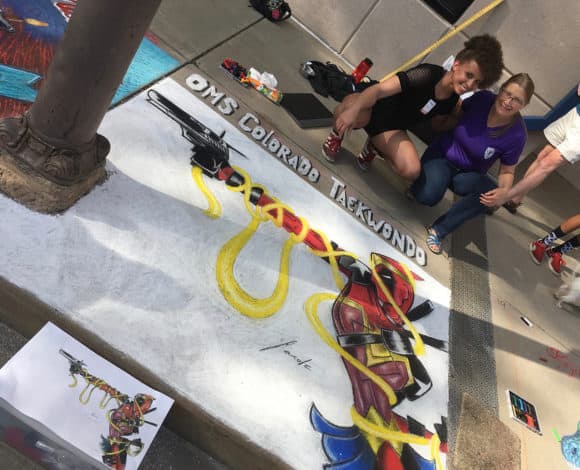 Having participated in Colorado's many Chalk Art Festivals for a few years now,  I can confidently say that Pastels on 5th is the best one! This was my first time being a chalk artist for Pastels on 5th, and I just wanted to pass along a special thank you to everyone involved. I've never felt more appreciated as an artist. Everyone was so warm and welcome! Judges actually interacted with me; volunteers constantly expressed how happy they were that I was participating as an artist; members from ATV kept checking in on the progress of my piece; speaking with other artists felt like I was interacting with old friends; my sponsor even visited my piece 3 times (I've never met my sponsor at any other Chalk Arts event–a photo is attached with her and I).
The lunch staff were even AWESOME!
Normally at Chalk Art events, I have separation anxiety with my chalk piece–I always stay over 3 hours after the event, take hundreds of pictures, and dread leaving my work in a city where I felt as though my work wasn't appreciated by anyone–namely the Chalk Art staff. I gladly left my piece in Loveland–no strings attached.
You guys are the friendliest people I've ever interacted with.
A lot of TLC went into this event, and I felt it the second I approached the Artist Registration table. You all did an amazing job and I wish other Chalk Art festivals would follow suit.
I hope to be able to participate in this incredible event next year!
Thank you again!
– Carole