2015 Pastels on 5th Recap
Thank you to everyone who participated in and supported the 5th annual Pastels on 5th! This year, we had 100+ artists, 95 sponsors, and 82-degree (and sunny) weather. Plus, over $20,000 was raised for Alternatives to Violence, including $2,341 from The People's Choice voting!
Check out photos from the event. Thank you to Lanna Brake and Lucky Brake Ltd.!
Select an option below:
[su_accordion]
[su_spoiler title="Congratulations to our 2015 Winners" icon="arrow"]
The 5th annual Pastels on 5th winners are:
Juried Awards
[su_row]
[su_column size="1/2″]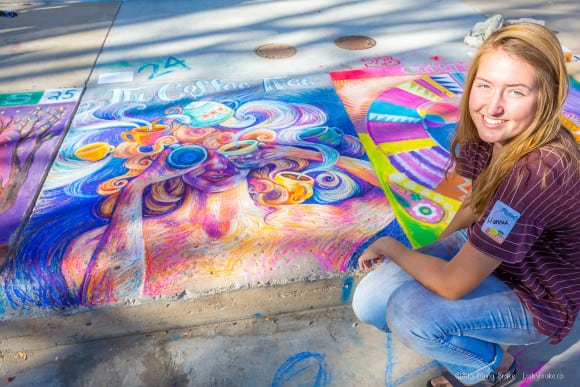 1st place – Artist: Hannah Cirkenis,
Sponsor: The Coffee Tree
[/su_column]
[su_column size="1/2″]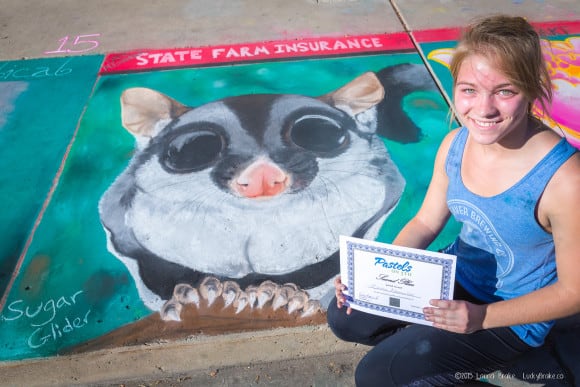 2nd place – Artist: Brooke Alexander,
Sponsor: State Farm Insurance/Daryl Alexander
[/su_column]
[/su_row]
[su_row]
[su_column size="1/2″]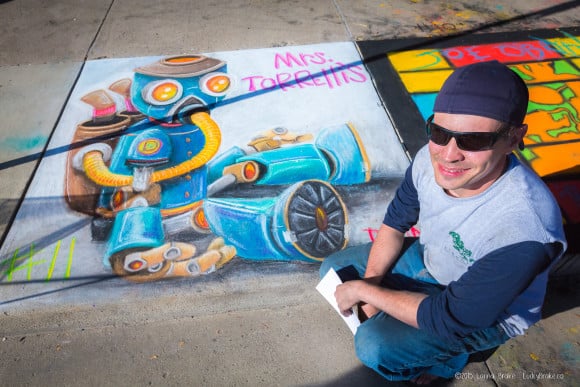 3rd place (tie) – Artist: Dion Weichers,
Sponsor: Mrs Torrelli's Wine Flat
[/su_column]
[su_column size="1/2″]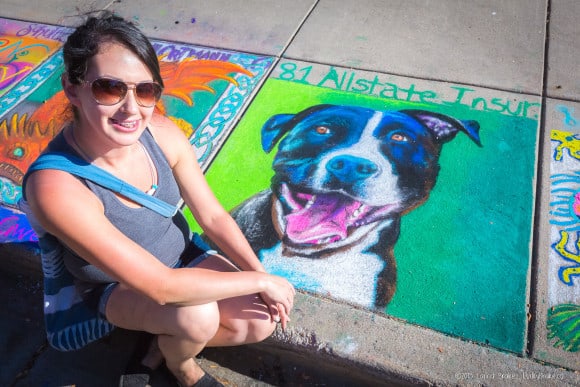 3rd place (tie) – Artist: Elizabeth Meyers,
Sponsor: Allstate Insurance/Vicki Pitmon
[/su_column]
[/su_row]
---
People's Choice Winners
[su_row]
[su_column size="1/2″]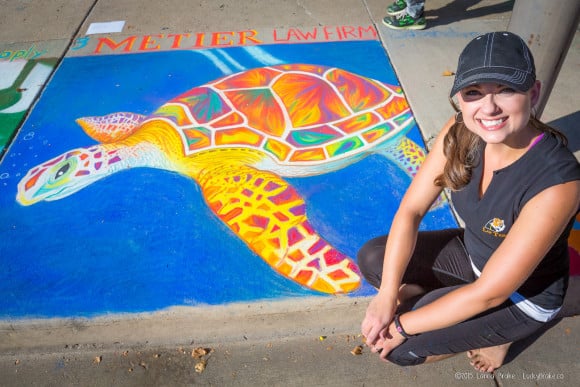 1st place – Artist: Lacy Gangasted,
Sponsor: Meteir Law Firm
[/su_column]
[su_column size="1/2″]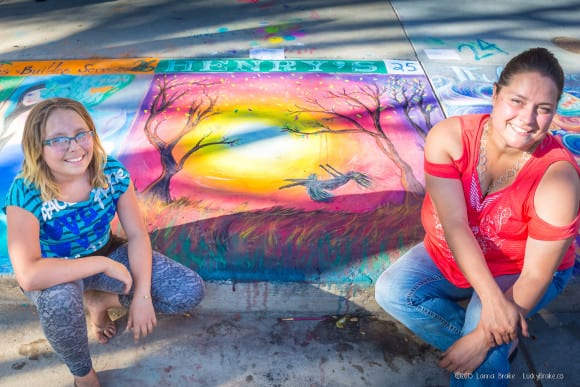 2nd place – Artist:DaLisha and KaKailee Verheyen,
Sponsor: Henry's Pub
[/su_column]
[/su_row]
[su_row][su_column size="1/2″]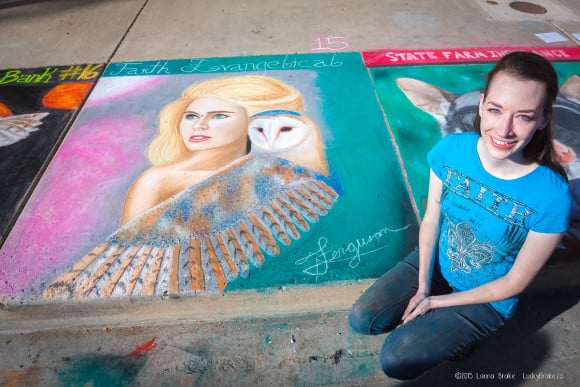 3rd place – Artist: Alaina Ferguson,
Sponsor: Faith Evangelical Church
[/su_column]
[su_column size="1/2″]
[/su_column][/su_row]
[/su_spoiler]
---
[su_spoiler title="Thank you to our 2015 Sponsors" icon="arrow" icon="arrow"]
We would like to extend our gratitude to the following Pastels on 5th sponsors:
Premier Sponsors ($1,000+)
Balzer Law Firm • Helen Bryant • Home State Bank • Loveland Ford Lincoln • Realities for Children • Shipper's Supply • Visit Loveland
Event Sponsors ($500+)
Awesomesauce Creative • Crossroads Church • Daryl Alexander Insurance Agency-State Farm Insurance • Elevations Credit Union • Joe O'Bryan Music • Loveland Barricade LLC • Metier Law Firm LLC  •  Mrs. Torrelli's Wine Flat • OtterCares • UC Health • Western States Bank
Sponsors (Sidewalk Squares)
Aims Community College • Allstate Insurance (Vicki Pitmon) •  Arte Pizzeria • BF Kitchen Elementary School • Ben Paul • Judi Bryant • Vicky Bryant • Chick-fil-A Loveland • Dark Heart Coffee Bar •   DivorceCare at Crossroads • Doc's Blacksmithing • Duncan's Place • Faith Church • First United Methodist Church Loveland • Mary Gullikson • Hand to Hand • Henry's Pub • Keystone Financial • LoCo Artisan Coffee House  • Loveland Elks Lodge • Loveland Integrated School of the Arts • Loveland Martin Luther King Committee • Loveland Philomatheon Club • Loveland Veterinary Clinic • Metal Masters LLC • Metric Motors •  Mountain States Building Services  • Origins Wine Bar and Wood Fired Pizza • Kristeen Ortmann • Rabbask Designs • Rocky Mountain College of Art and Design • Sculpture Depot • Schissler Academy of Fine Arts • Sculpture Depot • Studio Vino • The Coffee Tree • Thom and Joani Schultz • Truscott Elementary School • Weedin Agency Inc. • Westlake 66
[/su_spoiler]
---
[su_spoiler title="Thank you to our 2015 Artists" icon="arrow" icon="arrow"]
We would like to extend our gratitude to the following Pastels on 5th artists:
Laura Aeling • Brooke Alexander • Mark Baldwin • Samantha Bergstrom • Timothy Brister • Jenny Burbank • Ross Busby • Hannah Cireenis • Nicole Cutler • Cynthia Danielle • Katie DeClement • Ralph Dobson • Alaina Ferguson • Alice Fernandes-Brown • Celia Eaby • Kathryn Anne Frey • Sandy Fritz • James Fronapfel • Lacy Gangestad • Elena Gannon • JC Gosnell • Morgan Gray • Candica Hartley • Corina Hedahl • Laura Hernandez  • Shannon Horman • Susan Hunt • Renee Hutchens • Denise Itule • Makenna Jager • Taryn Jokel • Tessa Kauffman • Marcie Kronwall • Jessica Kuhns • Teresa Lantz • Madeline Lehnherr • Kim Leszczynski • Minnie Lippiatt• Kitty Love • Caroline Marwitz • Shawna McKenna • Anne McManus • Audrie Mergelman • Elizabeth Meyers • Isabella Miles • Tanya Miller • Audre Montes • Maggie Murphy • Kelly Murray • Nona Nading • Wade Newman • Tessa Novelli • Christine Nossoughi • Estralla Nunez • Sam Paul • Tori Peckosh • Carrie Perkins • Amanda Portillo • Justina Portillo • Melanie Poston •Marc Quattlebaum • Courtney Ragatz • Allison Real • Zoe Real • Aaron Ritzer • Leslie Ritzer • Janet Robertson • Melissa Robinson • DeeDee Sabin • Will Sasser • Sarah Schinner • Staci Schmidt • Katherine Schaub • Sarah Schinner • Pat Sebern • Dakota Sena • Ashley Sheneman • Amarie Stocker • Jennifer Strona • Katherine Sullivan • Leah Taylor • Mariah Thompson • Christina M. Torrez • Jaedyn Vallejo • DaLisha Verdeyen • Kailee Verdeyen • Heather Vinson • Kathryn Vinson •Dion Weichers • Emilie Wolfe • Charlotte Zink
[/su_spoiler]
[/su_accordion]